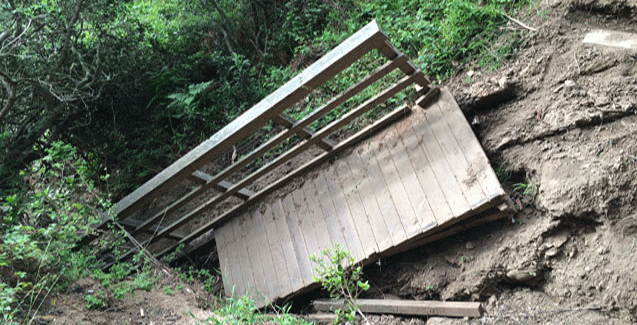 A footbridge is out on my favorite walking trail. I don't know what happened and I didn't believe it at first. Ignoring the "trail closed" sign tacked to the post I forged ahead to see what was up. Often it just means there is some brush clearance underway which I can easily walk around. This time the trail was blocked off with thick orange plastic mesh to protect hikers from the gaping void left behind by the footbridge now lying on its side and headed downhill. There was no way around it.
I've walked this trail several times a week for the past few years. It's my perfect trail: an aerobic loop that snakes uphill toward Montara Mountain with views of the ocean at several turns. The down slope is on the sunny south side of the hill that looks back into the valley, passes an illusory waterfall that I have heard but not seen until this year, a gentle fairy ring of redwoods, and rushing creeks that come to an end under two giant oaks dripping in Spanish moss. Bliss…
It's also perfect because it takes the right amount of time that I have allotted for exercise while affording me the 10,000 steps that I flirt with as my daily goal. It fit into my comfort zone. Some may also call this a rut; a blissful rut but a rut nonetheless.
It's taken me several weeks to find a new routine of exercise after the bridge went out. The other available routes are pleasant enough but don't meet my criteria for the perfect trail – too short or long, not enough uphill, variety of views, etc. For a couple of weeks I felt discombobulated and didn't walk at all – my personal brand of stubbornness and refusal to accept the circumstances. I'm sure none of you can relate.
I was in denial that this might take some time to resolve and kept waiting for the "Trail Closed" signs to come down. Instead, I watched as the rain caused the ink to run and the letters on the sign faded out from the sun. According to the Visitor's Center, a volunteer is pulling together some people to rebuild and looking into approval from the park. This could take a while.
As many wise sages have expressed: it's all about the journey.
What I've noticed in the past month as I hike new trails is that I am more present to my surroundings. I knew the old trail so well that a lot of the time I wasn't paying attention to what I was experiencing. It was more of an assignment to check off my to-do list than a pleasant walk in the woods. Because I am more present I'm enjoying the walk, rather than judging and begrudging the trail I am on.
So what do you do when a bridge in your life goes out? Health issues, relationship challenges, crisis in our family or work, and the myriad disappointments we face in life all can to make us feel off balance. We may also lose our footing and feel discombobulated from time to time for no good reason at all.
Re-balancing starts with acceptance. Wishful thinking isn't going to build a new bridge in time for my next hike. When I accept what is, feel whatever feelings I'm having about it, and do the work required, I find a new trail and explore new possibilities I had not imagined before.
How do you respond when your routines are disrupted? What do you do when you feel discombobulated? What are your practices to come back to center?