Posted by
Mary Corrigan
on Feb 20th, 2011 in
Manifesting
|
1 comment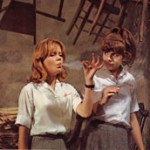 I've got the most scathingly brilliant idea! – Haley Mills
It is natural to want reassurance especially when we are treading into new territory. The work is to look for it in the right places. Do not go to the person in your life who has always been the most critical and expect to find it there. Especially if what you want reassurance for is something that will upset their status quo. Find a person or two that will support you no matter what.
Think about your idea, cause, or creation as the tender shoot of a new plant that you have been tending in your greenhouse. It has just broken through the soil and the brightest tip of green is showing. This is not the time to put the pot out in the full midday sun where it will most likely fry in the heat. You want to nurture it, care for it and love it until it's developed more strength. People who really see you, get you, and love you no matter what can help in that nurturing. News alert – they are often not members of your immediate family.
Positive and healthy self-talk are what's needed – and a healthy dose of discernment.

Note – this was my first foray in video. Careful – the sound is loud so be forewarned.


Practice
What reassurance do you want or need? If you're not hearing the right message, make up your own.  In the Goodies page are some you can use to get started – included my fave from Haley.  If you see something you like, print it out and  post somewhere you'll see it.  There are blanks to fill in your own.  Better yet, cut it out and take your picture with it. Make it real.