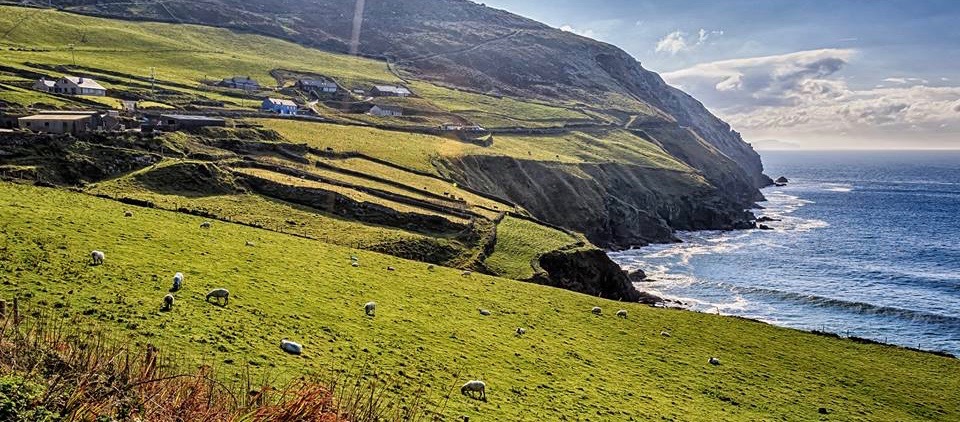 In the uncluttered world of Celtic spirituality, there is a clear view of the sacrament of Nature as it brings forth visible presence. When you find a place in Nature where the mind and heart find rest then you have discovered a sanctuary for your soul. The landscape of the West of Ireland offers welcome shelter. – John O'Donohue
Join us for a healing spiritual journey to the "thin places" of West Ireland, where the presence of the invisible and spiritual is palpable. Drop back into the ancient land where the mystical is still present. Journey to Ireland's ancient past and present; a pilgrimage to reconnect you with your soul.
For thousands of years, Ireland has been renown as a place of pilgrimage where people experience Divine Communion with Nature. Its ancient Sacred Sites still hold great power for healing, purification, and renewal. These mystical places serve as portals to reconnect us with our true nature by allowing us to tap into ancient memories, knowledge, and wisdom.
…attending to the silent divinity of wild places
Visit ancient Sacred Sites, Holy Wells, Stone Circles, Fairy Forts, Dolmens, Neolithic Cairns, and hidden gems only accessible with a private guide – places of community, spiritual power, and ancient wisdom.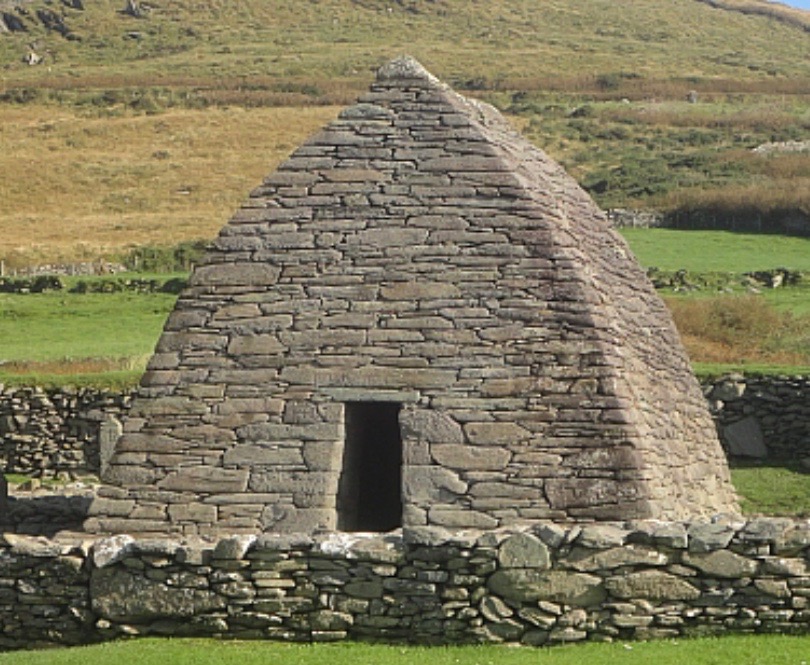 Experience rejuvenation, healing, and blessings from the Sacred Waters of the 7 Streams, St. Brigid's Well, and many more magical wells and springs. Balance the energies of the masculine and feminine at the largest ancient ceremonial stone circle in Ireland.

The Dingle peninsula is one of the most magnificent sections of the Wild Atlantic way.  A wild rugged peninsula where the Irish language is still spoken.  A haven for the archaeologist where ancient standing stones abound.  Walk the trails and learn about the mythology and mysticism of this ancient land.

Inishmore is one of the 3 Aran islands off the west coast of Galway. A place apart favored by ancient seafaring people and monks who sought out these wild places to build their hermitages.  Another Gaelic outpost where Irish, or Gaelic, is the first language.

Be rejuvenated by the healing power of the Divine Feminine and the ancient Goddesses of this land – Eíru, Aíne, Brigid, Maeve, and Danu to name but a few.

…weaving ourselves whole again, recognizing the perfection of the inner and outer landscape
Allow this sacred living landscape to act as a bridge within, unlocking ancient keys to deeper places within your own heart and soul, moving to a place of oneness with the Mystery. Many of the places chosen for this journey are known to anchor the energies of the Feminine.
We will base ourselves in 4 locations along the Wild Atlantic Way and each day will delve "into the well," exploring local sacred sites where the ancient energy is still intact, spending reflection time together in circle, and integration time on your own. To support the integration of the high energy that some of these sites carry, we will spend portions of our time in silence.
This magical, spiritual and life-affirming adventure with Mary O and Mary C was an incredible journey, one I will remember for as long as I live. Hiking to sacred stone circles and wells, touring with music, poetry, the Irish landscape, was not on my list of things to do in my life, but now that I've done it, I know it belonged on my "bucket list." The people of Ireland, the mystical rebels who have such a rich and complicated history, add their special open-hearted hospitality to this journey and you will fall in love with the land, the people, yourself, and the Mary's. Do this for yourself, you are worth it. – DK Haas, San Francisco
A truly mystical and magical experience. I know that I had opportunities to see places that I would have never even known about and the time spent there was beautifully guided by the leaders. I came away from that trip – transformed. A deep healing experience and a whole cadre of new friends and companions that have continued to connect and support long after our return home. – Julie Gieseke, San Francisco
The retreat helped me to tune in to my inner self and I discovered a deep, strong bond  and connection with nature, ancestral vibration, all that is free and wonderful about this world. I felt a calm rest and renewing energy during and since. My creativity was high and my poetry flowing. It was a joyful, laughter filled, memorable journey through a beautiful landscape. – Sandra Richardson, Liverpool
This was such a well designed trip. All my needs were met and then some. In such a caring environment I found myself laughing, singing, and playing as childlike wonder reappeared in my life. I bonded to the group and missed us when the trip was over. This was my first trip to Ireland and I was blown away by its majesty. I'll go again. – Andra Mitchell, San Francisco
Your Guides – The Marys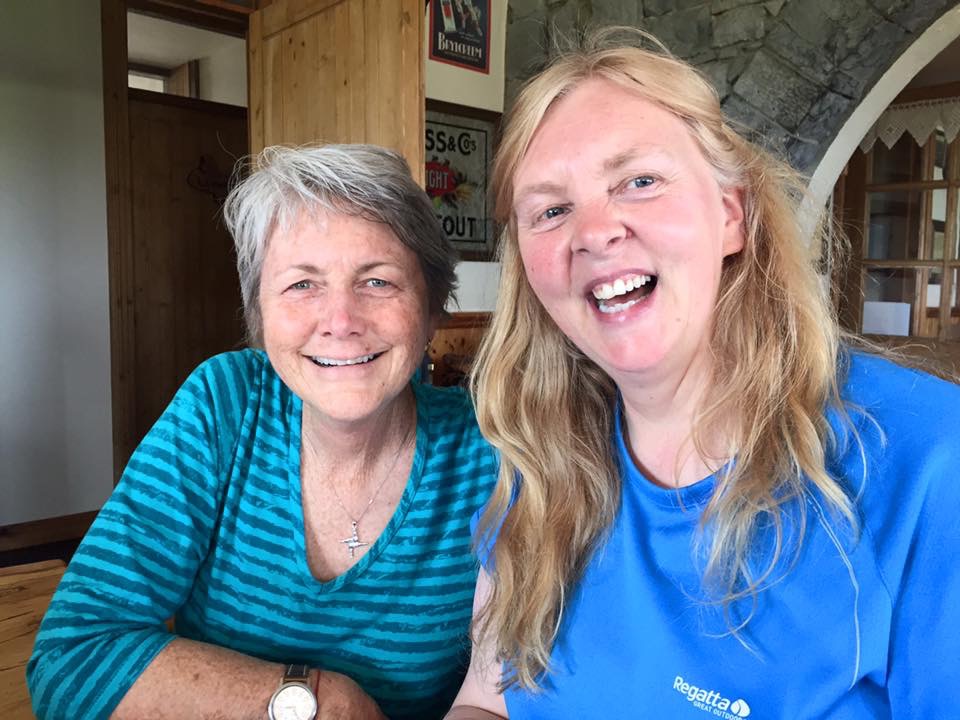 Mary Corrigan's (left) Irish roots come from her father who was born in County Wicklow and "came over on the boat" to America in 1948. Mary has journeyed to Ireland many times where she feels a visceral connection to the land as soon as her feet touch the soil. Mary is a consultant, teacher, artist, and entrepreneur specializing in change leadership, team development, and designing experiences for inclusion, learning, and engagement. She has convened women's circles internationally for almost twenty years. She leads the Women at the Well retreats, programs on creativity and innovation, and writes a blog – Creativity For the Rest of Us – exploring everyday creativity. She studied cross cultural wisdom practices for twenty years as a protege of the late Angeles Arrien.  See more about Mary C at www.trackingthewisdom.com and www.creativity4us.com
Mary O'Halloran (right) comes from County Clare in the west of Ireland, and was lucky to be brought up in a family that has a deep connection to place and ancestors, where music and storytelling was part of life.  This foundation led Mary to study historical geography, archaeology, folklore, and genealogy. She brings this body of knowledge together with a variety of healing modalities including Bio-Energy, Ancestral & Cellular Memory Healing, Meditation & Mindfulness.   A trained facilitator and workshop leader,  Mary runs regular Healing Circles in various parts of Ireland and tours to Sacred Sites. She will be sharing her vast knowledge of Ireland, its culture and abundant treasures on this journey. Find more about Mary O on Facebook at Mary O'Halloran Healing Journey
In order to create an intimate environment to do your own personal work and cultivate our community, the group is limited to 18 participants.
Once you have registered, the journey begins. You will receive periodic communications to guide you through each step of preparation for this pilgrimage. We will have a private Facebook page for you to connect in advance, ask and answer questions, and begin to build our community.
If you feel an inner stirring or curiosity about this journey, we encourage you to follow your heart and join us.
Details:

THIS JOURNEY HAS BEEN POSTPONED UNTIL 2018. Email us if you'd like to the first to know when dates are posted.
Journey includes:
All accommodations – 11 nights in shared accommodations
All breakfasts, most lunches, some dinners
All transportation in private coach including airport pick up and drop off
All guest guides and entrance fees
Extras: local musicians, yoga, storytelling and surprises
NOT included:
Some lunches and dinners
Air fare to and from Shannon Airport
Alcoholic beverages
We suggest travel insurance
Cost :
$3295 if registered by December 31, 2016
$3495 on January 1, 2017
$500 Deposit is due on registration, $1397.50 due on Feb. 15, 2017 and $1397.50 due on April. 15, 2017.
There are a limited number of single rooms available for an additional $450.00
In the event of cancellation deposit and registration minus $250 is refundable 60 days prior to the tour departure. After that if we can fill your space, we will give you a refund.
Logistics and Travel Planning –

AIR TRANSPORTATION
Arrive no later than May 1st into SHANNON AIRPORT (not Dublin) by 9:00 a.m.
Most flights on major airlines from the U.S. arrive between 7:00 – 9:30 a.m. The coach will collect you at Shannon Airport on May 1st for transport to Dingle.
Past participants have found it beneficial and enjoyable to arrive the day (or two) before and spend the night in nearby Ennis. If you are in Ennis, the bus will pick you up  at your hotel the morning of May 1st. We will have accommodation suggestions in Ennis for those arriving early. Ennis is a charming town and a good place to walk off jet lag, shop, and get your bearings. This additional cost is not included in the trip package.
Depart the morning of May 12th FROM SHANNON AIRPORT

The bus will drop everyone off at Shannon Airport on Friday morning, unless you make other plans to continue your trip.
ACCOMMODATIONS
May 1-3       The Dingle Skellig Hotel and Penninsula Spa, Co. Kerry 

May 4-5       Kilmurvey House, Inis Mor, The Aran Islands

May 6           The Killaloe Hotel and Spa, Co. Clare
May 7-11      Cliffs of Moher Retreat Center, Co. Clare
Accommodations are in shared rooms and include breakfast,  most lunches and some dinners. Lunches will be a combination of picnic box lunches and local café or pubs. We will provide lists for local options for meals.
Contact Mary Corrigan with any questions or for more information.  mary [at] trackingthewisdom [dot] com