Posted by
Mary Corrigan
on Apr 6th, 2011 in
Gratitude
|
1 comment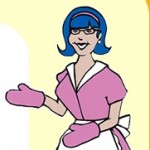 For me, the most gratifying Sunday morning involves a rockin' celebration of worship at the East Bay Church of Religious Science followed by lunch with friends at one of the many great restaurants in Oakland's Temescal District.   My favorite stop is Bakesale Betty.
There is no sign, just a black awning.  In the window is the day's menu scrawled on a piece of butcher paper.  It's an easy place to find – look for the line out the door.
Betty's picks a few things and does them really, really well.  Baked goods and seasonal pies – the lemon currant scones make my knees weak – fried chicken sandwiches and chicken potpies to die for.  But that's just their products.
What they are the best at is their spirit of generosity.
Unsurpassed in warm and genial service, just about every time I go there they throw in a little somethin' extra.  The line moves fast but if you're waiting for very long, one of the delightful staff may pass by with a tray of fresh banana bread to sample.  Summertime would often find a lemon ice in my hand on the way out the door.  I'll find a cookie I didn't order tucked in among my treats.
What I love so much about going there is not just what they sell.  I love the way I feel when I leave.  After spending just a few minutes in their joyful world of generosity, I feel uplifted, happy and appreciated.  It makes me want to turn around and do that for others.
It's contagious.
Practice
Be generous.  With your time, a gesture, ideas, opportunities.  This week look for ways to give more of yourself than you think you have the resources or time for.
Additional tip.  At times in my life when I was broke, depressed, stuck or generally feeling blah, I would make myself (and believe me it was an effort) give something away.  If I were broke, I would make a donation – however small – or give money to whoever asked me on the street.  If I was stuck, offer some collaborative or brainstorming help to someone else with no expectation of return.  Being generous with others is the best way to get out of yourself.