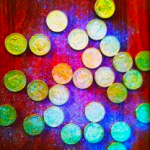 I'm on retreat this week.  Enjoy this post from my friend Clare Campbell in Liverpool and join in on the Big Love Fund.
…as if for an instant we had all learned how to give all our money away, watching it return without a shirt on its back… happy and singing, telling stories and introducing us to brilliant company, walking as if we could be dangerous again, dangerous in our generosity. – David Whyte
Recently I found an old diary, stumbled on a dream list for my life …..I now had created everything on that list – except for my vision of becoming a philanthropist running a wild fund for others dreams. That felt so far away from where I now found myself. I recognise that compared to most of the world I live in great wealth – I have a home, food to eat, fresh water etc. But like so many people in this current climate I have been struggling to keep up with my mortgage payments and was sliding into deep debt.
My work as a social entrepreneur working with people who were long term unemployed to inspire them had near enough dried up. I also was ill with panic attacks and anxiety…after a year of treading water it finally came to me missing my mortgage payments and praying for a miracle. All around me voices rang out in doom and said "the golden days are over- this recession will last years- you will loose the house- etc etc…" I began to swallow their words and depression set in. It was 21st June at about 2pm. I lay on my bed exhausted and feeling burnt out. I was due to speak at a Magical Solstice Evening and felt, if I am honest, as far from "magical" as humanly possible. I was feeling heartbroken, frightened about my future and had absolutely no energy to spare. I contemplated canceling and fell into a deep sleep and woke and hour or so later knowing exactly what to do.
I woke up and went straight to my purse. I had about £25 – £30 pounds left to last me and no sign of any other income. I took the money and got it changed into pound coins and put them in a paper bag upon which I wrote "magic possibilities" and covered the coins, in glitter. I went to the solstice celebration with excitement in my belly and a spring in my step. People came in looking equally ground down by life as I had been earlier in the day. Two people came through the door with big tears welling in their eyes after particularly difficult days, others tired and weary.
Launching "The Big Love Fund" I spoke that night with honesty about my situation and how at times like these I felt moved to do something creative.  "The Big Love Bank " was my way of finally fulfilling my own dream to become a financial philanthropist -even if I only had £25.
Each person there took a sparkly pound from the bag and promised to do something creative and beautiful for someone else with it and then to report back. I have never felt richer in my entire life than watching people with those golden coins dreaming up beautiful ideas. The next morning I woke up feeling amazing and went to empty the resource bags from the celebration – I opened the coin bag to find £85 in notes and pound coins … I was astonished …my £25 had grown as I gave it away- people had taken the £1 and replaced it with notes ! Most people are beautiful and generous beyond belief. I decided to use that £85 to give away more coins and keep spreading the magic. I shared the story on facebook and by 12 o'clock that night some beautiful souls had deposited £2,585 pounds in my paypal account as a result of reading the story and told me to pay off my mortgage arrears with it – I would call that a miracle!!!
What happened next…
I went to a meeting with some PCT health workers the next morning carrying that feeling of richness – I told them about the coins and their eyes lit up –  so i reached in and gave them coins too !!!  They asked me would I run a session with some young women in care but they didn't have funding yet.  I looked one of them in the eye and said you could use your £1 to buy me for an hour to work with the young women …you could fund and sponsor the session …she was delighted and agreed and handed over the £1 saying she was potentially changing all these young women's futures with her funding.
Since then I have given out 50 more £1 coins and many others have given out their own coins. Taxi drivers, small businesses and individuals have joined in and we have a school who want me to come and speak and give the children a sparkly coin too.   I was sitting in my favourite Cafe in Liverpool – The Quarter and I talked to the manager about what happened – he said we could do it with the staff there – so 45 staff got a sparkly pound and are going to feedback what they do with it.
By the end of the day Alan Parry had met me and agreed to make us a web site for £1. Sylvia Pearson at the Liverpool School for social entrepreneurs had asked me to tell the story at the SSE Graduation next week and to give all participants £1 to do a magic project of love with.  Now people are giving me up to £60 in exchange for one sparkly coin and asking me to fill up the coins in the Big Love Bank. I see huge possibilities for this spreading and people finding the joy in money again!  The magic of tiny gestures. I refuse to live in fear and let money constrain me or my dreams.  I believe magic can be created from tiny gestures and ripples of kindness and creativity can change the world world.  So take £1 or $1 or whatever your currency is and do something amazing with it for someone else.  Share it with me and we will tell stories of magic and philanthropy and we need never feel quite so poor or frightened again.
PRACTICE
Share the wealth and  your story at http://clarecampbell.org/