Posted by
Mary Corrigan
on Mar 23rd, 2011 in
Inspiration
|
12 comments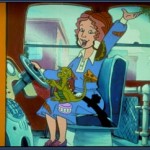 The Magic School Bus was one of my favorite shows to watch with my daughter when she was growing up.  It featured the teacher everyone wished they had, Miss Frizzle (represented by the voice of Lily Tomlin).  Miss Frizzle came to class dressed to represent the subject matter about to be studied.  The solar system unit featured planet earrings, rocket ship shoes, and images of galaxies printed on her dress.
The coolest thing about The Magic School Bus was the bus itself.  Its magical powers included the ability to physically transform to accommodate whatever adventure the students were about to study.  With its special "shrinking" power the class was baked into a cake and swallowed for a ride through the human body.  Underwater it turned into a submarine for a field trip to the ocean floor.
Miss Frizzle's rules for the road? Take chances, make mistakes, get messy. The goal is to enjoy the adventure of learning.
Helen Keller said that life is either a daring adventure or nothing.  The woman was deaf and blind!  If she thought life is an adventure, what's our excuse?   Where did we get so caught up in the need to do things right?  Avoid mistakes at all costs? Look good in front of our friends and colleagues no matter what?
Enough already!
In case you haven't noticed, life is messy.  We waste our creative spirit in seeking approval and playing it safe. When we live life as an adventure, chances, mistakes and messes become just another feature of the landscape.
Practice
Take a chance – invite someone you are curious about to coffee, offer an idea you've been thinking about in a meeting, pick a movie different from the ones you typically like and go see it – if it's in a language you don't know, all the better.
Make a mistake – learn something new that you don't know how to do.  You Tube is filled with how-to's on learning everything from solving the Rubik's cube to making a soufflé to moon walking.
Get messy – finger-paint on large sheets of paper, eat a meal with your hands, take a walk on a muddy trail.
Track what these "adventures" evoke for you.  If you feel uncomfortable or critical of yourself, see if you can track where that came from and what's the story you're telling yourself about it.  What is the new story you'd like to write?