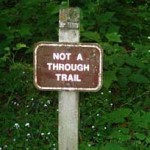 Catching up with a friend last week I heard a marvelous story about his son.  Joey finished college without knowing what he really wanted to do.  What he loved was surfing and he did a lot of that.  The parents were probably a little worried.
Joey did some substitute teaching and helped out when needed at a Montessori School where his Dad worked. After he'd been around a while, one of the preschool assistants went on leave and Joey stepped in for 6 months to work full time in the classroom.  It was there he discovered that he enjoyed teaching and the Montessori approach.  When the assistant returned to work, Joey went back to school and got his Montessori credential.
This is the part of the story that makes me just giddy.  When he set out to find a job, Joey was clear about two things.  He wanted to teach and he wanted to surf.  He was focused and specific while staying open to the possibilities of where that might show up.  After all, there are a lot of great places to surf in the world. Many would have told him to get his head out of the clouds.
Here is where job hunting has really changed.  He found his perfect job – on Craig's List – in Costa Rica.  Bali was a contender but Costa Rica offered him a job.
It's been said that the careers our current students are studying for haven't even been created yet.  How do they prepare for that?  The best thing we can do as parents, mentors and coaches is to encourage discovery, life long learning, and trusting your instincts.
Steve Jobs in the 2005 Stanford University commencement address (the closest he ever got to a college graduation) advises graduates to follow their curiosity and intuition.  That it is the heart and intuition that somehow already know what you truly want to become.  Only in retrospect can we connect the dots and see how it's all connected.
PRACTICE
Connect the dots in your own life.  Take a little tour and reflect on significant events in your life.  Key turning points, jobs, hobbies, travels, places you've lived.  You can look at your whole life or track one particular thread (i.e. job history or creative expression).  Those of you a bit further along on the path can break it down by decade.
What did you learn or discover about yourself in each of these? What patterns do you notice? What do you appreciate about where you've been? What dots can you connect?
View this retrospective tour through the lens of curiosity and learning. This is NOT an opportunity to berate yourself for any perceived past mistakes.  This is about learning and tracking your gifts and strengths.
Recommended reading

The Adventures of Johnny Bunko: The Last Career Guide You'll Ever Need by Daniel Pink
This is a terrific guide for young people entering the world of work by one of my favorite thinkers/writers.  Written in the Japanese style of Manga.