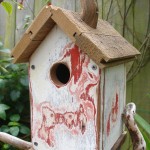 In the summer of 2007 I went on retreat in my garden. I was seriously in need of some reflective down time and didn't have the opportunity then to get away. I pitched a tent, set up a chair and left everything else but a journal, water, and some snacks in the house. Three days and two nights later I returned rested, refreshed, and reinvigorated.

During that time, surrounded by the joys of nature, a question came to mind and – the way a good, juicy question will – wouldn't go away. What would a Frida Kahlo birdhouse look like?

Puzzling though it was, that question stayed with me – even haunted me at times. I did lots of mental gymnastics trying to figure out what it would look like and how I would build it. Finally, about 18 months later, the buzzing in my brain got so loud – much like a persistent mosquito – I sprang into action.

I used materials I had on hand – a skill saw and some old planks – and failed miserably. So I asked for help. My brother knew the equipment I needed – a compound, radial, miter saw – and just happened to have one he wasn't using. My friend Shawn guided me to Building Resources – a goldmine of salvage building materials where I found treasures galore in lumber, plumbing parts and scrap metal. At that point there was no stopping – I was on a creative roller coaster.

Upwards of 75 birdhouses later I still don't know the answer to my question. That's not the point. A good question is an adventure. It will seize you; take you on a ride into new territory you cannot imagine. You will meet allies along the way, suffer setbacks and learn extraordinary things – if you are open to it.

A good question can be a Hero's Journey.

I'll share more about My Year of Building Birdhouses in future posts. In the meantime, what's your question?

Practice: What idea, question, or wondering has been pestering you? Take one action, any action that will set it in motion. Then take another one. What happens for you when you get out of your head and into action? Track your process.