Posted by
Mary Corrigan
on Jul 22nd, 2011 in
Manifesting
|
16 comments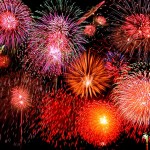 Acceptance has been working me.  I've been out of commission from a gardening injury since the 3rd of July.  It was entirely self inflicted – the not-so-elegant combination of impulsive activity, bad body mechanics, and using the wrong tool for the job.  I was flat on my back and in severe pain for a week.
Two years ago, also  on the 3rd of July, I took a very unglamorous tumble in the driveway and broke a bone in my foot.  I haven't hit the magic Number 3 yet but in this case two is quite enough to get my attention, thankyouverymuch.
It's not lost on me that both of these events occurred on the eve of Independence Day and that I spent our annual 4th of July BBQ and fireworks fest begrudgingly allowing people to help me.
Asking for help is kickin' my behind and not just because I've been physically restricted.  My business is at a level that it's time to hire some help.  I'm spending too much time on tasks that distract and take me away from my creative mojo.
I'm afraid.  I've let the voices of  "do it yourself, don't waste money, people will cheat you, don't show weakness, I don't know how," paralyze me.  My dear old Dad – he turns 91 next week– recently said he didn't want to hire a gardener to mow his lawn because he knew if it didn't work out, he wouldn't be able to fire him. This may be the stock I come from but the fearful family pattern stops here.
In the spirit of "change your thinking, change your life" here's the new thinking and perspective I'm adopting as of now: the universe is rich with creative, competent, imaginative, and honest people who are eagerly ready to support me.  I happily pay others to do what they enjoy and do well, freeing me to fully express my joy.
My pledge is to celebrate Interdependence Day next year, with liberty and abundance for all.
PRACTICE
Think about something in your life that you want or need to do but haven't moved forward on.   Spend some time in reflection or writing and see if you can uncover the limiting belief or voices that are underneath.  Ask yourself what's the payoff in staying stuck in where you are.  What is the cost to you and your aliveness?  Is there a new story you want to tell?  What is the language that will take you there?  Write the state that you desire as an affirmation and post it where you'll see it several times a day.