Posted by
Mary Corrigan
on Sep 30th, 2011 in
Manifesting
|
14 comments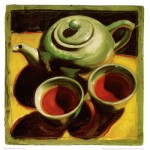 I'm in the midst of a practice Angeles Arrien introduced me to many years ago with the goal to create more spaciousness in my life.  This is about my fifth time through it and every time it has produced delightful and surprising results.
Everyday for nine days in a row you give away, throw out, donate or think of another use for twenty-seven things in your home.  27 things a day for 9 days.  Numerologists in the group could shed some light on the significance of those numbers.  The numbers aren't what matter to me.  What matters is knowing that every time I do this I experience more clarity, spaciousness, generosity, light heartedness, and yes, creativity.
Some of the stuff is a no-brainer and easy to part with: old clothes, dried up pens, dead electronics, broken toys.  Others can feel excruciating – the coat that was such a good deal but I don't wear, Aunt Edna's chair that I will repair someday, gifts that I never really liked but love the person who gave it to me. Beware of anything you haven't used in a year but hang onto because you "might need it someday".
We've done this as a family and it becomes a game. We have playful arguments over who gets credit for the pile of family video tapes that's on it's way out. It brings a dynamic and creative energy into your home.
While this may seem like just a great tool to clean out your closets (and it is), it's fundamentally about trust.  I get to see where and what I'm attached to – what I want to hang onto because I "might" need it someday. These are the places that highlight where I can strengthen my self-trust.
Creativity comes from trust. Trust your instincts. And never hope more than you work. –Rita Mae Brown
Patience is the trusty sidekick to trust.  The more I live my life trusting in my own creative essence, the less "stuff" I need. I may not have what I think I need immediately at my fingertips.  It always comes – usually more elegantly, creatively and organically than I might have imagined.
I'm hearing a growing conversation about wanting more simplicity in our lives.  Start by clearing the clutter in your home and office.  Then we can talk about the other clutter – the clutter of time and the calendar.
RESOURCES
If you think 27 things a day sounds tough, check out the radical folks who have chosen to live with 150 things in their whole house.
If you want to work on trusting in abundance, Suze Orman advises not to save things for a garage sale.  Don't try to make a few bucks off of a mistaken purchase.  Cut your losses and get rid of it.  Be generous.
Donate old art supplies –or anything that could conceivably be used in an art project –to SCRAP in San Francisco.  It's a resource originally founded for teachers to get classroom and art supplies on the cheap. There are similar organizations in other areas.
Building supplies and lumber can be donated to Building Resources or an organization like it where you live.