Posted by
Mary Corrigan
on Feb 12th, 2011 in
Manifesting
|
2 comments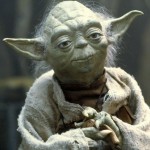 In my twenties while I was "finding myself" in various workshops of the then burgeoning Human Potential movement, the concept of there is no such thing as trying took root in me. Think about it, you either do something or you don't do it. You pick up the pencil or you don't. You may not succeed at a task or a goal but once you begin, you are in the realm of action. Succeeding is not the point. Action is and learning is.
Do or do not.  There is no try. – Yoda
Trying can be a place we hang out in when we don't want to commit, tell the truth (I really don't want to come to your party but I'm not going to say that to your face) or just aren't clear enough to decide yet. When someone says they are going to try to do something, go somewhere, start something new, I don't have much faith in it actually happening. There isn't any juice in trying.
It's also a back door escape against commitment. We don't have to acknowledge that we started something, gave it our best and maybe it didn't work out. We often spend more time shielding ourselves from disappointment than we do diving in. Success can be overrated. What did you learn and how can you adapt for the next round?
If at first you don't succeed try, try again. The spirit of the adage is about persistence and that's okay. But don't just keep "trying" the same thing over and over again and expecting a different result. There's a definition for that…it's called insanity. Act, learn, adapt. Repeat.
Practice
For the next week, banish the word try from your vocabulary. Notice what that brings up for you. Does it cause you to make any different choices? Are you able to tell the truth any easier? How does it feel when you do?