Posted by
Mary Corrigan
on May 25th, 2011 in
Life +
,
Tracking
|
3 comments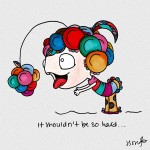 This week I didn't feel like writing a blog post.  I was feeling kind of funky – not a lot of energy and a vague sense of empty after the completion of a run of juicy teaching and coaching that I was really fired up about.  It got me thinking about what to do when I don't wanna do.
One of the reasons I started this blog was I wanted a reason to write on a regular basis. Things have been hummin' along until I sat down on Monday and wasn't feeling the love.  My usual "tricks" weren't working – I walked, wrote morning pages, stared out the window and waited.  Nothing was coming; I just wasn't in the mood.
In tracking my inner conversation, I realized that I have a belief that I have to be in the right mood to write.   I also have an expectation that the end result, ideally, should be optimistic and uplifting in some way.  No pressure there.
In The Creative Habit, the renowned choreographer Twyla Tharp says: "Creativity is a habit, and the best creativity is a result of good work habits."
Thankfully, my weekly practice of writing has now developed into a habit.  Whether I'm in the right mood or not is irrelevant and, in fact, is a guise for procrastination.  Whether the output will ultimately be useful or not – though highly desired – is irrelevant.  Whether readers will like it or not is irrelevant.  My job is to sit down and, as best as I can on any given day, write honestly about the creative process.
Creativity isn't all feel good and juicy results.  Some days you're just slogging through the work.  A good habit doesn't care what mood you're in.  It's a vehicle to get the work done.
(Check out more of very fresh artwork by Jennifer Song at Love it or Leaf it)
PRACTICE
Track how and where you fall victim to some version of "I'm not in the mood."  It shows up in a variety of ways: I don't have the right materials, the time, the inspiration, the skill.  Choose one idea that's been rattling around in your head and think of the smallest step you can to get started on it.  Go. Now. Just do it!